Threshold
Episode 89
Friday, 17 November 2023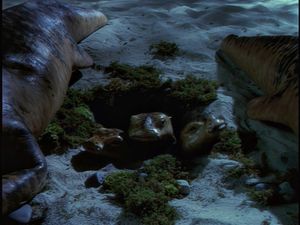 Star Trek: Voyager
Series 2, Episode 15
Stardate: 49373.4
First broadcast on Monday, 29 January 1996
– Guess who I get to meet today. The Creator of Fair Haven, Captain Proton himself: Lieutenant Tom Paris!

– No way! That's awesome! Is he still a salamander?

– No, that's not… It was a celerity-induced accelerated somatic mutation rate, and he's fine now. He was the first human to break the transwarp barrier, and today, he's on the Cerritos!
Boimler and Mariner, We'll Always Have Tom Paris
When I first read that script, I couldn't believe they were going to shoot it.
Robert Duncan McNeill